Divorce Attorney in Houston, Texas
The decision to get a divorce is not an easy one. Navigating the emotionally treacherous waters of family and domestic law can make things even harder. Divorce in Texas accounts for over 80% of all the cases filed in District Courts. Family law matters are often complicated, messy, and burdensome for all parties involved. They can be especially taxing on children.
It is imperative that you hire an experienced Houston family law attorney who will fight aggressively, pushing your case through the court system with your best interest in mind. I have extensive knowledge and a deep understanding of family law in Texas. I will use my expertise and unique strategies to fight for you. A family law attorney's goal is to ensure that divorce cases are resolved in a favorable and equitable manner.
DIVORCE AND FAMILY LAW ISSUES
Divorce in Texas encompasses a variety of sticky issues, some more burdensome than others. Unfortunately, there is much more to separation than simply ending a marriage and each state has its own unique laws pertaining to the issues involved. Some of the matters involved in family and domestic law regarding divorce include:
Spousal support;

Alimony;

Child custody and visitation;

Child support;

Property and asset distribution;

Division of marital debt; and

Prenuptial agreements.
I have the experience to skillfully navigate these issues during the litigation process with your best interest in mind. I offer compassionate, yet candid, discussion of all issues for your protection.
WHAT ARE THE GROUNDS FOR DIVORCE IN TEXAS?
The state of Texas recognizes seven legal grounds for separation and grants them accordingly. What follows is a brief synopsis of each:
Insupportability – This ground does not assign fault to either party. It simply states that marriage cannot continue due to irreconcilable differences.

Adultery – You must be able to prove that your spouse has committed adultery with another party outside of the marriage.

Abandonment -This occurs when your spouse leaves the marriage and offers no support, financial or otherwise, for a term of one year.

Living apart – This occurs when you and your spouse have not lived together for three consecutive years.

Unbearable cruelty – You must be able to prove that your spouse has been willfully and intentionally cruel towards you to the point where it is no longer tolerable.

Conviction of a felony – If you testified against your spouse and trial for his/her conviction then this does not apply. However, if your spouse is convicted of a felony and spends at least one year in jail or prison, you may be granted a divorce.

Confinement in a mental hospital – If your spouse has been confined to a mental hospital or facility for three consecutive years and has no prognosis of improvement or rehabilitation, you may be granted a separation. It is of the utmost importance that you have an attorney that understands all of these grounds and the evidence necessary to prove them.
I will skillfully build your case, present it, and navigate the legal system with your best interest in mind.
HOW LONG DOES IT TAKE TO GET A DIVORCE IN TEXAS?
Each and every case is different and treated on an individual basis. Most cases have extenuating circumstances that must be taken into consideration and, therefore, require a reasonable amount of time. With that being said, a separation cannot be finalized in Texas for at least sixty days after the petition is filed. That is state law. This is meant to give the couple time to work out their differences, if it is possible. Sometimes things happen in the heat of the moment and some couples do reconcile before the divorce is finalized.
WHAT ARE THE RESIDENCY REQUIREMENTS FOR DIVORCE IN TEXAS?
In order to file for separation in Texas, at least one spouse must be a resident of the state. This means the spouse must have lived in the state of Texas for a continuous six-month period preceding the filing of the petition. Additionally, one spouse must have been a resident of the county where the petition was filed for at least ninety days.
WHAT IS THE TYPICAL DIVORCE PROCEDURE?
One spouse will file a petition for separation and have the other spouse served with papers.

At the time of the petition, a spouse may ask for a standard restraining order. The restraining order will require that both parties act in a civilized manner toward each other and no assets disappear before being divided by the court. If an order is issued, then a hearing must be scheduled within fourteen days.

If no such order is issued, the respondent has twenty days to file an answer.

At this point in time, the spouses may engage in discovery.

Both spouses are required to attempt mediation, with a neutral third party, before going to trial.

If mediation fails, a date will be set and the case will go to trial.
This can be a difficult and lengthy process, depending on how complex the issues are. Every case is different and treated individually, with respect to the parties involved.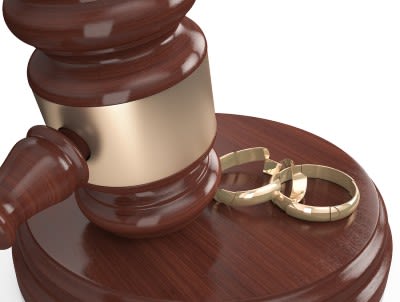 HOW ARE ASSETS DIVIDED IN TEXAS?
Texas is considered a community property state, meaning that the assets are usually divided equally among both parties. There are some exceptions to this rule. For instance, if a spouse can provide clear and convincing evidence of an inheritance or a gift that was meant only for one party and kept separate from other marital property. Some factors, such as unequal earning power and fault in the demise of the marriage, may also affect the division of property.
CONTACT AN EXPERIENCED AND AGGRESSIVE HOUSTON DIVORCE ATTORNEY TODAY
For over 30 years, I have dealt with a range of family law matters, including child custody, child support, property division, adoption, paternity matters and beyond. This is just one of my many practice areas, which also includes personal injury law and probate matters.
If you find yourself in a position where ending the relationship is the only answer, contact me today. Call (713) 903-8339 or contact online to schedule a free case consultation. As an experienced family law attorney, I will handle your case in a strategic, aggressive manner. I will help you navigate the treacherous waters of divorce, offering sound legal advice and representing you in court. I proudly represent clients in Houston, Texas, and the surrounding areas.