Car Accident Attorney in Houston, Texas
A car accident can change your life forever. Suddenly, you are facing a serious injury, a mountain of medical bills, intense physical rehabilitation and recovery is a distant daydream. You are probably up against a number of other unexpected problems, too. This one incident can cause a ripple effect that impacts your entire life. You need an experienced car accident lawyer fighting for you.
As a Houston personal injury lawyer, I can help drivers like you recover the financial compensation that you deserve for your pain, suffering, medical bills, and other losses. I also represent families who've lost a loved one in a car, motorcycle, bus, or truck accident.
AGGRESSIVE AND PROFESSIONAL REPRESENTATION
The damage inflicted by a car accident can be immeasurable. One person's negligence while driving can change your whole life. You may find yourself facing serious personal injury, long-term rehabilitation, missed work and lost wages, mounting medical bills, and even family issues as a direct result of the pressure and constraint that comes along with injury and recovery. I have over thirty years of experience navigating the legal system with personal injury and auto accident claims in Texas.
As a Houston accident lawyer, I will fight diligently and aggressively to handle issues with the involved insurance companies, while also pushing your case through the court system and get you the financial compensation you deserve. Each case is given private, individual, and personal attention because each case is truly unique.
WHAT DO I DO FIRST IF I GET IN A CAR ACCIDENT?
Today, people live in a fast-paced society that is not always safe and bad things happen. Unfortunately, injuries occur very often due to the negligence or malice disregard of another person, especially on the road. It is regrettable that car accidents are not uncommon and they sometimes go unreported. The most important thing you can do when you are involved in an accident is to report it to the authorities, immediately. This helps to document the accident and the injuries incurred as a result of it. Some injuries, such as neck and back injuries, may not be apparent right away. These types of injuries tend to get worse over time. Even if you are not sure of your injuries, go ahead and make a report. It's the right thing to do.
WHAT HAPPENS IN A CAR ACCIDENT CLAIM?
As stated earlier, the best thing you can do is to report and document the accident and/or injury. Once this is done then I can aggressively pursue appropriate compensation for your loss, your injury, as well as your pain and suffering. When car accident lawyers file a personal injury lawsuit, the defendant has approximately three weeks to answer the claim. I will immediately start a thorough and diligent investigation, gathering evidence, documenting your losses, and uncovering information.
You may be contacted by an insurance company during this time. If you intend to pursue your claim, it is very important that you do not sign anything. Even if something comes from your own insurance company, do not sign it. Take it directly to your attorney. Your personal injury lawyer will advise you on what to sign and how to proceed.
After the claim has been answered, the case will move into the discovery process where both sides are made aware of the evidence. Depositions will likely be taken and mediation will be offered. If an agreement or settlement cannot be reached, the case will go to trial before a judge.
HOW LONG DOES A CAR ACCIDENT CLAIM PROCESS TAKE?
There is no direct answer to how long a car accident claim may take. Some cases may be complicated if there is a pending criminal case, such as an accident involving drunk driving. There are many stages in the process and paperwork must be submitted with each stage.
When claims are filed and settlements are being negotiated, each party is given ample time to answer those claims. An attorney usually has to gather medical bills after a patient is discharged and then negotiate those bills to get the lowest rate possible. This increases the amount of money left in your claim. There must also be negotiations with the insurance company and this can take some time. A car accident claim may take several months, to a year or more.
I have the expertise to push your case through the system quickly to get it resolved and recover the financial compensation that you deserve.
WHEN CAN I FILE A CAR ACCIDENT CLAIM?
You can file a car accident claim as soon as you are injured, and the sooner the better. Over time, information can become construed and details may be forgotten. If you start the process right away, it is more likely that you will have access to all of the information necessary to pursue your case.
It's important to note that the state of Texas does impose a two-year statute of limitations for car accident personal injury lawsuits. This means that you have two years from the date of your accident to file a civil claim.
Sometimes there are exceptions to this rule. This is most common with neck and back injuries. They tend to take time to discover and they can get significantly worse over time. In this case, you would have two years from the date of reasonable discovery of your injury to file a suit.
WHO CAN FILE A CAR ACCIDENT CLAIM?
The answer is anyone who has been injured in a car accident, due to the negligence of someone else, can file a car accident claim. If the injured party is a minor, then a parent or guardian must file on the behalf of the minor child.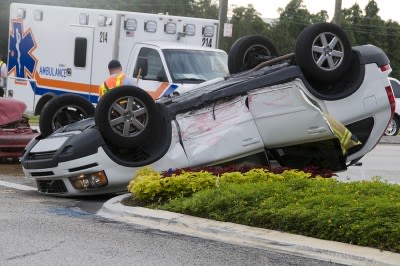 WHAT HAPPENS IF MY CHILD IS AWARDED MONEY?
The courts tend to become very protective over minor children involved in car accident claims. Children are usually appointed a guardian ad litem who will protect the child and act in their best interest. The guardian ad litem is not there to negotiate the case, they are only there to see that the money is invested wisely and properly for the child. If the child is awarded a large sum, the guardian ad litem may set up a structured settlement with monthly payments to the child beginning once they reach a certain age.
HOW MUCH IS MY CASE WORTH?
Each case is different and there is no rule of thumb for determining how much your car accident claim may be worth. However, there are many different types of damages that may be awarded in these cases. As a Houston personal injury lawyer, I can say with confidence that the following are the most common forms of compensation:
Medical expenses

Loss of income (past and future)

Property loss

Pain and suffering

Emotional distress

Loss of consortium

Punitive damages
CONTACT AN EXPERIENCED CAR ACCIDENT ATTORNEY TODAY
If you have been injured in a car accident caused by the negligence or willful disregard of another person, contact me today. Call (713) 903-8339 or contact online to schedule an initial consultation. As an experienced and aggressive car accident attorney, I diligently represent clients in Houston, Texas, and the surrounding areas.